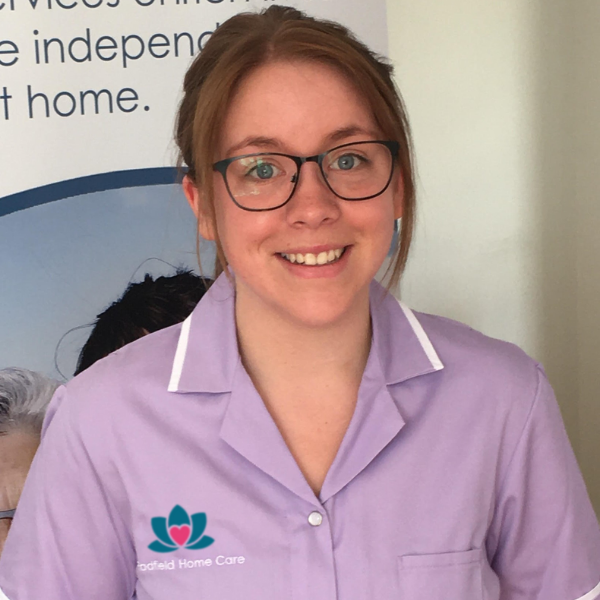 Gloria Lupu
Care Coordinator
We would like to introduce you to Gloria Lupu, care coordinator for Radfield Home Care Stamford, Peterborough & Rutland. Gloria is responsible for the creation and management of the rotas for clients and carers, liaising with clients, families and professionals to manage care needs and staff deployment and supporting the registered manager with safe running of the office.
Gloria's journey began at Radfield Home Care Stamford, Peterborough and Rutland as a Care Professional in August 2021. She spent almost a year in the field, working hard to make sure clients were receiving the best possible care at home. Since then, she has moved into the role of Care Coordinator, where she continues to support clients and Care Professionals in a different way.
Gloria's career background prior to care is rich with variety, from managing UK Parachuting, to electrical engineering. Like many, the Covid-19 pandemic changed her outlook on working life and she soon found herself seeking a more fulfilling career. Gloria found what she was looking for in the world of care.
"I looked into care work and joined a company for a short period of time, then back into engineering before coming to Radfield where I have been for almost a year. Going back into engineering made me realise that I actually really enjoyed being a Care Professional and doing a meaningful job for a great company. Work is better when you enjoy what you do."
Gloria found the exceptional efforts made by Care Professionals during the pandemic to be inspirational and gave her the drive to help vulnerable people however she could. Her experience with scheduling in her previous roles has now transferred over to the world of care where she can make a real difference to the lives of others.
"Every skill in life is transferable; you just have to adapt it to the environment. I didn't understand what hard work being a Care Professional was until I stepped into their shoes and I take my hat off to everyone in the care sector."