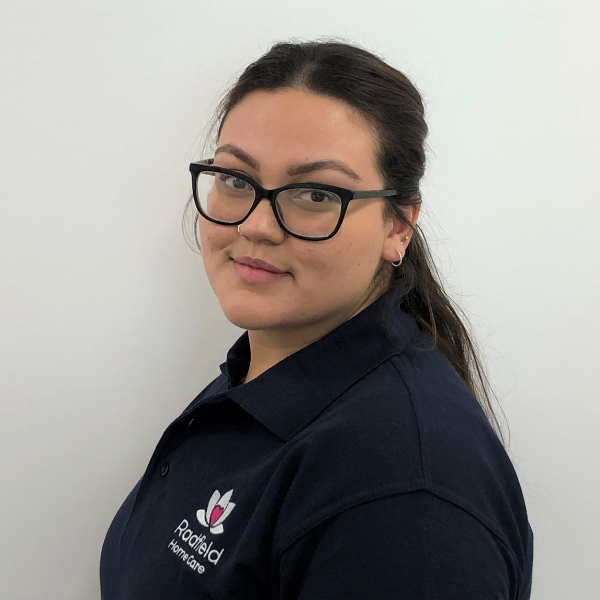 Tamia October
Field Care Supervisor
We would like to introduce you to Tamia, field care supervisor for Radfield Home Care Camberley, Farnborough & Fleet. Tamia is the key person in the field. She is responsible for inducting and supporting new staff to understand our processes and complete their care certificate, undertaking regular spot checks and competencies for all staff to ensure the workforce is skilled to meet the needs of our clients.
Tamia started her career in care as a Care Professional. She has spent the last 2 years working specifically in home care and it fits her passionate and caring nature perfectly.
"During my time as a Care Professional I thoroughly enjoyed the feeling of job satisfaction that came from seeing my clients appreciate the efforts I'd put in and I often did what I could to go over and above for them."
Tamia was soon promoted to senior care worker where she continued to provide high level support, with the added responsibility of monitoring compliance and quality of service for the care team that worked in her area.
Tamia's role as Field Care Supervisor means that she is responsible for ensuring the team is well supported and supervised, as well as maintaining the quality of the service to our clients.  She is also responsible for reviewing and assessing care delivery to ensure that each client's care plan meets their needs and requirements.
"I bring my own mix of fun as well as a big focus on safety and competency.  I'm always looking to lead by example, so working as part of a team for me is something I really enjoy and will benefit Radfield.

I love working with people who have lived their lives and have so many stories. The sense of humour of some clients and the appreciation they give when a job is done well makes my day."