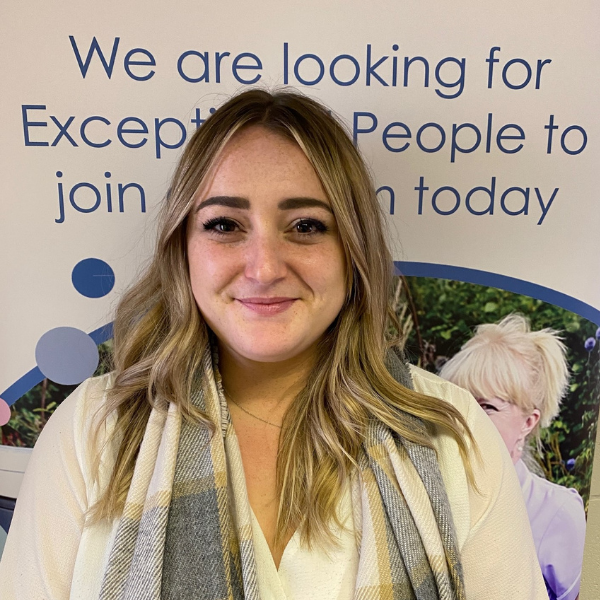 Charlotte Skinner
Registered Care Manager
We would like to introduce you to Charlotte Skinner, registered care manager for Radfield Home Care Loughborough, Charnwood & Melton Mowbray. Charlotte is responsible for the day to day running of the office in line with CQC regulations and also for ensuring that the service is safe, caring, responsive, effective and well led. Charlotte is the key point of contact for carers, clients and their families and promotes individual's wellbeing at all times.
Charlotte's career in care started aged 18, as a Care Professional in a residential home.
"I assisted with all their daily needs and wishes while really loving my time getting to know them and listening to all the amazing stories of their past."
Charlotte then transitioned into a role working with adults with learning difficulties. She spent time assisting with all of their daily needs, as well as helping them get out and about into the community.
Charlotte's varied background in care and her depth of experience makes her the perfect person to take up the mantle of registered care manager at Radfield Home Care Loughborough, Charnwood & Melton Mowbray.
Following her time spent working with adults with learning difficulties, Charlotte began working in the home care sector.
"I previously worked as a Registered Manager for a domiciliary company in Leicester, starting off in the Care Coordinator role and progressing into the Registered Managers role. 

I really enjoyed this role and being able to manage and train staff to enrich the lives of individuals in their own homes. Whether that would be a rehabilitation package and assisting the service user after recovering from an operation for example, or assisting them at home to try and promote independence. I also loved building relationships with our service users and their loved ones whilst supporting them with personal care and general domestic tasks that they may struggle to achieve without the help they need."
Charlotte has always enjoyed helping people. She spent a lot of her younger years with her Nan, who would run an art class once a week.
"I loved going with her during school holidays and helping all the other elderly ladies to their seats, getting them a drink and helping with their drawings. My Nan started the group to build a little community hub where anyone could come and enjoy a cup of tea and a chat. It was really just a coffee morning rather than an art class, but I do believe this is where my passion for care and helping others really started and blossomed from."
Charlotte goes on to say:
"I believe my previous experiences within the care sector will really benefit the client's by listening to their individual wishes and really getting to know what their personal needs and beliefs are. I have become a great listener and I really do believe in providing outstanding person centred care to everyone as that is what they deserve. 

I believe in walking into every situation with an open mind and with the mindset of wanting to do my absolute best and gain the best possible result."