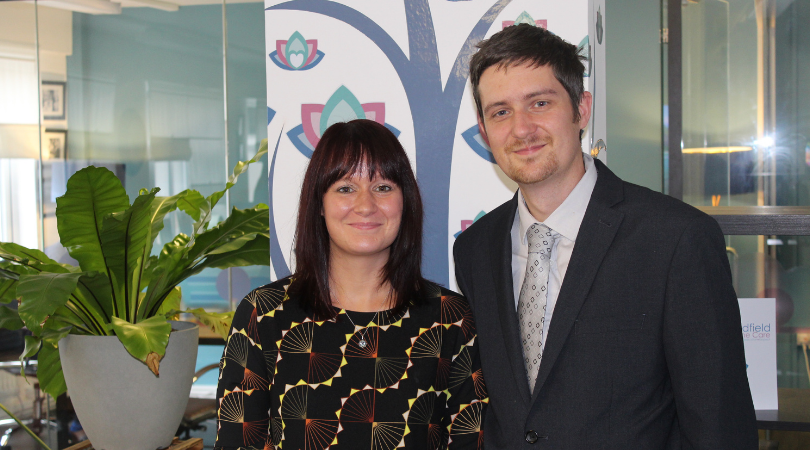 bfa HSBC Emerging Franchisor of the Year, Radfield Home Care has welcomed another franchise partner to expand its growing network of exceptional home care services in Newcastle-upon-Tyne.
Husband and wife team Andrew, who has a background in data analysis and a PHD in Mathematics, and Clare Richardson, who has over 17 years of care experience in the local community, are the proud new owners of Radfield Home Care Newcastle-upon-Tyne.
Together, they have recognised the demand for exceptional care services with the northern region and are looking to combine their skill sets to meet this demand, as Claire explains: "Having worked in the care sector for a long time, I have recognised the need for more high quality care services. It has been a long time ambition of mine to run a business delivering outstanding care, caring for people as if they are part of the family and providing individual care which suits their needs, with the clients as the focus."
To help them achieve this, they will be deploying Radfield Home Care's unique Caring for our Carer's™ pledge to provide care professionals with a supportive and rewarding career opportunity: "Knowing the incredibly challenging job my wife Clare and other care professionals do, I found it difficult to accept how under-appreciated they often were, when everyday they make such an incredibly positive difference to older people's lives. We are both passionate about being an employer of choice where our care staff enjoy working and get the support and appreciation that they deserve", says Andrew.
"To us it was very important that we would be offering a first class service and providing the best possible care for people in our community, we did not want to provide just another ordinary care service. From our research we were very impressed by the standards and level of care offered by Radfield Home Care and these aligned with our ambitions. We also noticed and were impressed by the number of awards won by Radfield and their franchises operating across England. We knew the importance of having the right training and support and having looked at various care franchises we felt the level of support offered by Radfield was far greater than any of their competitors. We will be a family run business as is Radfield Home Care and we share the family values of the company."
Having just completed the second stage of their 20-day Radfield Runway initial training programme, Andrew and Clare will now be working closely with the franchise support team to commence their pre-launch marketing and networking campaigns.
Radfield Home Care's franchisor, Dr Hannah MacKechnie welcomed Andrew and Clare to the Radfield Home Care's network, saying: "Andrew and Clare have a fantastic understanding and passion for exceptional care. Clare's background in various care settings really shone through throughout the onboarding process and it will certainly help them differentiate their service offering locally.
"We are looking forward to working with them to prepare for the launch of their office in the coming weeks and develop a successful home care business in the Newcastle area."
If you would like to find out more about Radfield's franchise opportunities near you, you can contact Radfield Home Care franchise recruitment manager, Ed Gill on 01743 548 550 or [email protected]. Alternatively, you can find out more and book your place on an upcoming Discovery Session at www.radfieldhomecarefranchising.co.uk.