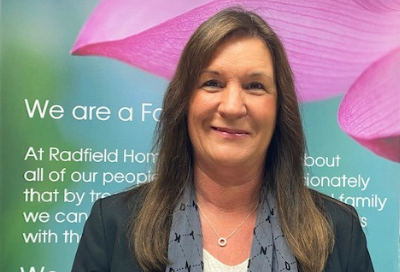 Sally Fern
Business Development Manager
About Sally
We would like to introduce you to Sally Fern, business development manager for Radfield Home Care Worcester, Droitwich & Malvern.
Sally supports, works with and helps guide the care management team and undertakes business development work in the local communities that the office services.
Sally previously spent 13 years as a business development manager for a well-known beauty brand. In 2020 she decided to move into the care sector as a care and support worker, providing domiciliary care to clients in their own homes. This experience in both business development and care makes her the perfect choice for Radfield.
Sally tells us:
"The role as Care and Support Worker prepared me for my role at Radfield as it gave me a great understanding of what home care service entails. It allowed me to understand the range of services available to clients and their needs. It is so important for clients to live as independently as possible in their own home and for as long as possible."
She goes on to say:
"Within my previous roles I assisted with the recruitment of new trainers and this has helped me understand the importance of recruiting a team of Care Professionals who are reliable, kind and understanding to assist our clients with their needs."
After working as a care and support worker, Sally could see the difference a professional home care service provider can make to a client.
"I love to see the transition of clients once they have started with a care provider and how this can make a positive difference to their lives. Also assisting those in looking for work within this sector and providing them with a happy work career with support and recognition in place."