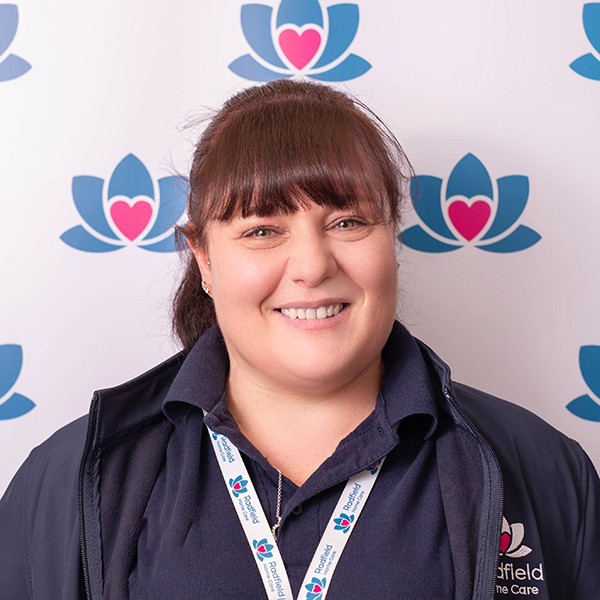 Caroline Sadler
Field Care Supervisor
Tell us about your career background and how you came to join Radfield Home Care
At the age of 16, I started working as a waitress in a cafe on the Westhill in Hastings and in the evenings in a small restaurant on George Street. I did this for many years until I guess I outgrew this role. From here I started working for a local taxi firm as a telephone operator and allocating jobs to the nearest driver to the job. I enjoyed this role being able to speak with people on the phone and hearing about their evening out but working long nights with a young family became difficult so I gave this up and began my career in care.

I started as a domiciliary carer for a local care company. I very much enjoy this role getting to know people and helping them live independently at home. I worked with this company for 7 years but found it became very much the same thing every day and whilst I enjoyed visiting my regular clients I wasn't enjoying my job like I once did.

A friend had pointed out a caring role in a local mental health Nursing home to which I thought would give me that bit of a challenge I needed. I worked as a care assistant for a year then became the senior carer on the unit I worked on, this certainly gave me the challenge I was looking for. When Covid hit the home, the support from management just wasn't there and I realised it was time to move on to my next venture.
My eldest daughter had been working for Radfield for a couple of years when she pointed out they were looking for new staff to join the team so I applied and was offered the job and here we are.
What is your current role and what do you enjoy about working for Radfield Home Care
My current role is Field Care Supervisor and am responsible for ensuring our team of care professionals are working safely and to the required standard. I also deliver some of our staff training and ensure any client concerns are communicated back to the team in a timely and effective manner.
Why Radfield Home Care? Is there anything specific that stands out to you when compared to other home care providers?
Because Radfield cares about their staff and their well being which helps to provide good care.
Any special moments with clients you would like to share?
I have many special moments from supporting new clients and hearing their amazing stories, to supporting a new client walking with her crutches which she hadn't felt confident enough to do in a while to celebrating her birthday.