2019 has been a great year for Radfield Home Care, with multiple award wins, new franchise partners joining the Radfield family, and an increase in care services. With 2020 on the horizon, below are just 12 reasons why you should consider launching your own Radfield Home Care business in the new year.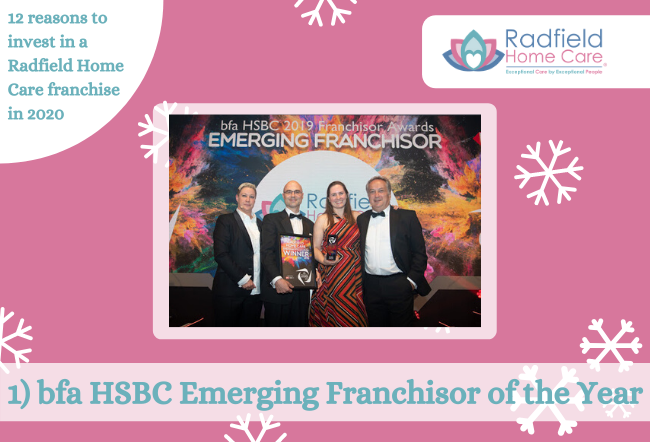 Back in June, the British Franchise Association and HSBC crowned Radfield Home Care as the Emerging Franchisor of the Year. This award demnstrates the strength of Radfield Home Care's   support and training to help  franchise partners launch and develop their business;  the success of its proven  business model, and the business' ethical approach to franchising that allows franchise partners to benefit from social rewards.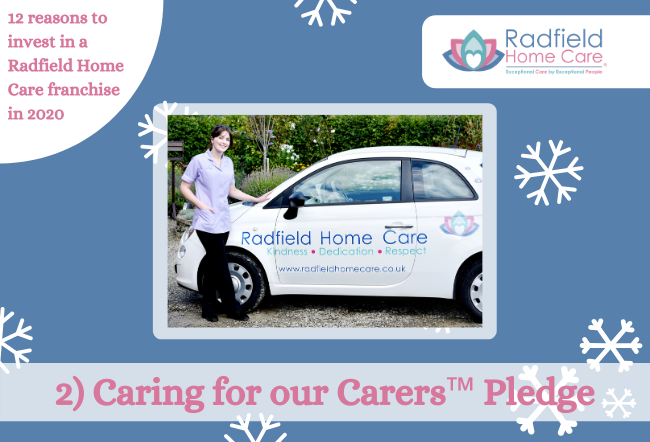 Radfield has always believed in providing a supportive work environment for its workforce, as well as quality care for its clients. The Caring for our Carers™ pledge ensures that Radfield employees are receiving above average rates of pay; training and CPD opportunities; and a supportive work environment. The care sector has always had a history of under-appreciating and under-supporting its workforce, however, Radfield's Caring for our Carers™ pledge has helped establish some of the lowest staff turnover rates in the sector. As a result, its franchise partners benefit from less recruitment and training costs, and clients benefit from a higher quality of care.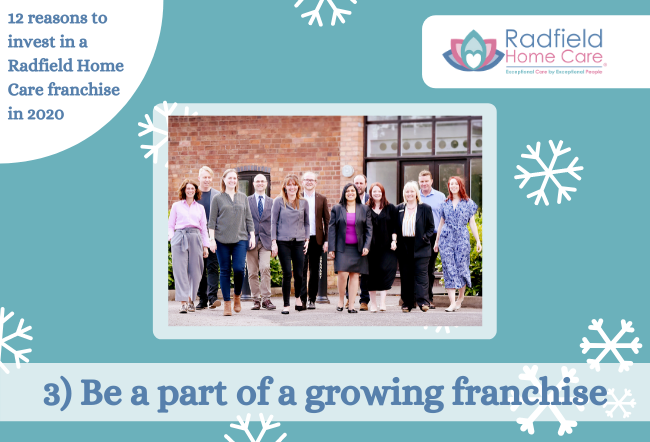 As an emerging and diverse franchise opportunity, Radfield Home Care's franchise partners benefit from one-to-one support with an experienced team of marketing, compliance, business development, recruitment and finance specialists. With a dynamic franchise model, franchise partners also have the opportunity to share feedback, have a voice and help shape the future of the network.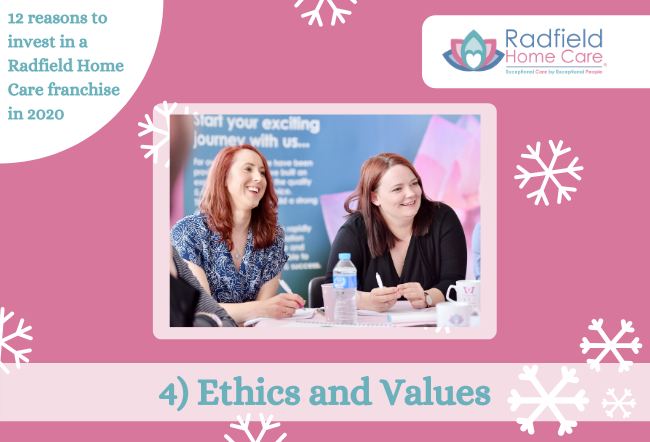 Radfield Home Care has been family owned and operated for over 35 years, and these family values and ethics still remain at the core of the franchise model. With a quality-first approach to care services; its leading staff retention strategy, the Caring for our Carers™ pledge; and a commitment to providing the highest standard of franchise support, Radfield's franchise partners benefit from an ethical business model and award-winning guidance designed to drive success.
Radfield has recently launched its new franchise management system, Radius (the Radfield Internal User System) helping franchise partners seek maximum benefit from their franchisor's support systems; network with their franchise peers; and keep up-to-date with the latest documentation and regulation. The Radius system also assists franchise partners at every stage of their development, providing step-by-step guidance from the very beginning of their Radfield journey and throughout their continued growth.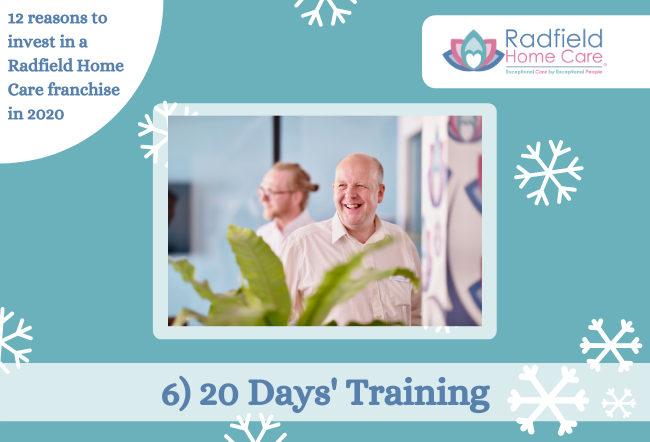 Radfield Home Care is proud to support all of its franchise partners with a thorough 20 day training period, tailored to each franchise partner's individual needs during their pre-launch activity and early days of operation. Franchise partners will work closely with their dedicated support manager, marketing and compliance teams to achieve essential pre-launch activity in preparation for successful early business growth.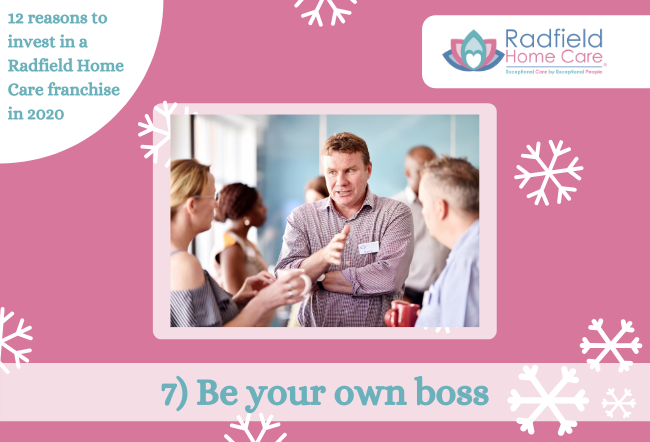 Operating you own Radfield Home Care franchise gives you control of your own destiny. As a franchise partner, you have the flexibility to manage a rewarding work/life balance and you have complete financial independence – all with the backing of a proven model and support team.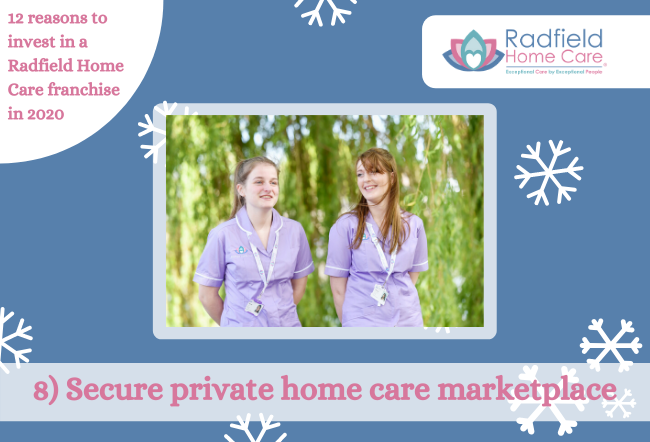 With approximately 75% of the UK's adult social care services privately purchased and similar levels of care delivered specifically to over 65s, Radfield Home Care franchise partners benefit from a business model that is focused on servicing this in-demand and growing marketplace.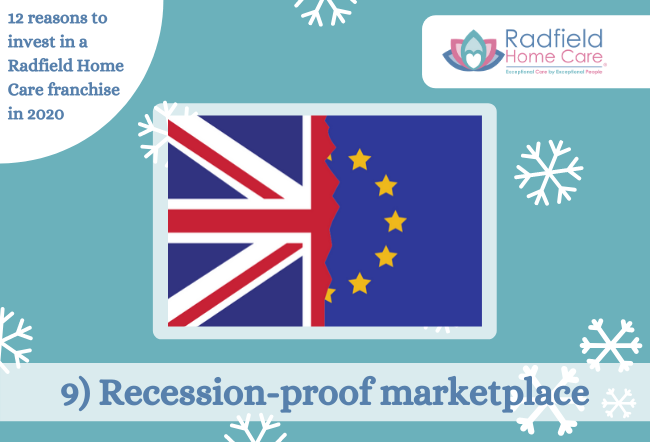 Despite launching in the midst of the 2008 recession, Radfield Home Care experienced strong growth throughout this period, leading to the launch of multiple, succesful company owned branches in the years to follow. Unlike dining out, going on  holiday, or purchasing expensive clothing, home care is an essential purchase and is often one of the last areas of personal spending cuts that may take place during a recession. With this in mind, demand for home care services often remain consistent during these times. What's more, home care services can also benefit from easier recruitment with redundancy taking place in other sectors. With Brexit on the horizon, the private healthcare sector looks set to continue to grow.
The UK is experiencing an ageing population and a Radfield Home Care franchise enables you to change the face of ageing. Radfield Home Care franchise partners have the opportunity to promote independence, wellbeing and happiness amongst the older people within their local community.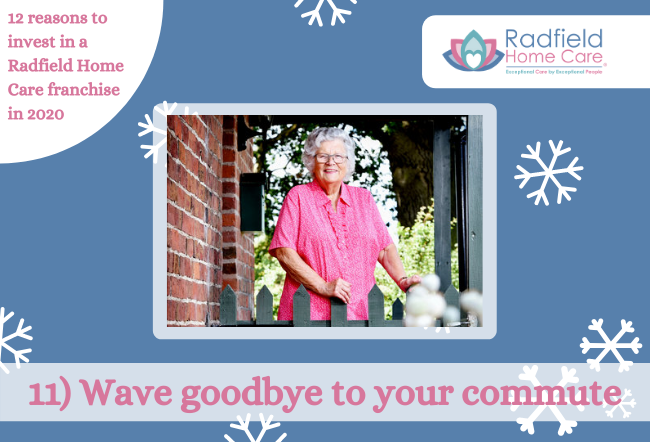 As a Radfield Home Care franchise partner, you will benefit from working within your local community, meaning you can say goodbye to lengthy commutes and help support local residents. With territories available throughout the UK, opportunities near you are available today.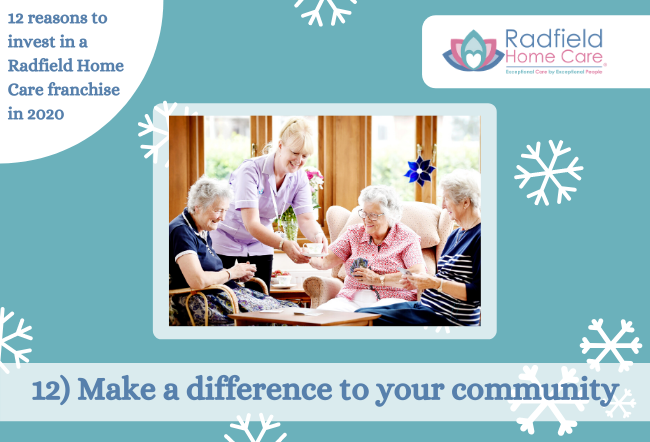 Radfield Home Care franchise partners take pride in being able to give back to their communities, by providing a high-quality care to the eldery, as well as providing careers for people looking to work within the healthcare sector.