If you had to read the title twice, it's quite likely you're not the only one. Recessions and business launches rarely go hand-in-hand and, given the current economic uncertainty, it's perhaps rare to read positivity surrounding business growth during tough financial times. Well, one business that is akin to those rare stories of recession success is specialist elderly care at-home provider Radfield Home Care, as brother and sister founders, Dr Hannah MacKechnie and Alex Green, are regularly reminded of as the UK's attention focuses ever-more on what will happen post-Brexit on 29th March (or even the 12th April, and perhaps the 22nd May).
We both left comfortable jobs and lifestyles to launch the new business in 2008. Following a period in New Zealand, I was working in London as a GP and Alex was in Manchester working in finance and launching a new charity for underprivileged young people. Everything was going well, and you could say launching a new business venture at the height of the recession was madness!, explained Hannah.
The decision to launch a brand new home care company came somewhat out of the blue for Hannah and Alex, as they had been prepping to take over the management and expansion of their parents' 25-year-old residential care home for the elderly in Shrewsbury. However, whilst doing their due diligence in the adult social care marketplace, it became clear that people wanted to stay in their own homes and not move into a residential care setting. So as a result, they decided to pull the plug on residential care altogether and realign their focus into the emerging domiciliary care sector.
Although residential and domiciliary care are in the same sector, they are operated very differently, explains Alex. "We had spent our childhood growing up in the residential home and had always been involved to some extent with supporting our parents run it, so we were quite comfortable with taking over the business. We even spent many months behind the scenes searching for a modern, larger property that would help us to scale and grow the service.

"However, the more research we did, the more we realised that it was not the right move to invest our futures into the residential care sector. Yes, we know it like the back of our hands, but it was clear the home care sector was on the cusp of expanding as people simply could not afford or didn't want to move into a residential care home – times had changed and older people's outlook on life was getting younger. Of course, the recession wasn't having any impact on the care needs of the elderly, but it was also apparent it was having very little impact on their healthcare spending habits either – so the economy never really impacted or halted our decision making process."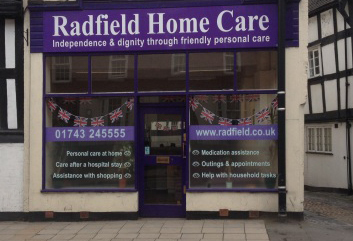 In March 2008, Hannah and Alex had returned to Shropshire and invested just £5,000 into launching their very first Radfield Home Care branch. They expected this to be the first £5,000 of many they would have to invest and anticipated having to take out a business loan in the coming weeks. With banks collapsing all around them though, luck and good financial management would have it that they never needed to turn to a lender for financial support and, even to this day 11 years on, have never had to borrow a penny, as Alex explains:
I remember to this day our first client was a wonderful chap named Eric and our first-ever member of staff was a great carer by the name of Kate. Although an exciting time, this was the first step for our emerging business and we soon identified there were improvements that could be made to help bolster our cash flow. Within weeks, we had made the required changes and as a result, we never made a huge dent into our initial start-up investment, we were paying ourselves a salary after just a few months and managed to grow from one to four company-owned offices by the time the economy had fully recovered to pre-recession rates in 2013. Between 2008 and 2016, we managed to accrue funds to launch the franchise opportunity – meaning we have never had to borrow a penny as a franchisor either.
To this day, Radfield's company-owned offices and 11 franchise partners use this same invoicing system. It is one of the main reasons the franchise's initial investment amount is lower than many others, as less working capital is required to fund payroll in the early months. Undoubtedly this is an attractive benefit of Radfield's model, especially when looking at investments on the cusp of Brexit.
However, this wasn't the only reason for Radfield's success during its infancy, and a lot of factors could be much more closely attributed to the weak economy, strong sector forces and downfall of many other industries:
Healthcare is different to most other sectors. It is not a luxury spend like eating out, going on holiday or buying new clothes. It is an essential spend that is often one of the last areas of personal spending cuts that take place during a recession, explains Hannah. However, because of the decline in other industries leading to a lot of redundancies, we also found ourselves experiencing a surge in job applications – which really helped turn up the gas on our growth. In the home care sector, recruitment is key as we need high-quality staff in order to grow our business and take on new clients, so with an abundance of new staff in the recruitment pool for us to choose from, we could grow much more easily. Over the years, the vast majority of our staff have been UK citizens, which means we are also unlikely to suffer on the recruitment front post-Brexit either.

We have always had a heavy focus on the private marketplace too. This allows us to stand out from the crowd and really make our mark as a high-quality provider that can meet the needs of our clients with tailored and quality-led care services. This is really difficult to achieve operating within local authority contracts as profit margins are severely restricted, so you cannot pay your staff well, you are always looking to reduce costs and your clients don't receive the attention they deserve. During the 2008 recession, public healthcare spending was not too badly impacted, but I anticipate it will be different in the event of a harsh Brexit, which will only further increase the demand for private care services.

All-in-all, the recession in 2008 was a great thing for the growth of the Radfield Home Care business. The fact that we grew throughout it, even as a new business, and have continued to grow since to become a national provider demonstrates this, Alex explains when asked about the threat Brexit may have on the economy, healthcare and Radfield. As Hannah mentioned, healthcare is an essential service which means we're a recession-resistant business. We're a perfect case study for this and now we can support our franchise partners from first-hand experience if the economy does take a hit after Brexit.

Even before we launched the home care business, the recession was not a factor for us and we never considered putting our plans on hold. If we were in the same position today, I certainly wouldn't be hesitating in the face of Brexit.
Radfield Home Care is celebrating its 11th birthday this weekend and, since the inception of its franchise opportunity in late 2016, there are now 11 franchise partners across the UK, developing successful, profitable and rewarding home care businesses. So, if you are looking for a recession-resistant sector to invest in that is set to stand the test of Brexit, then Radfield Home Care may just be the opportunity for you. To find out more, you can contact Franchise Recruitment Manager, Ed Gill on   01743 548 550 or [email protected]. Alternatively, request more information and your free franchise prospectus here.