Rose Krezwell is a fantastic Care Professional, forever going above and beyond for our clients. Her hard work and dedication have been recognised at the 2021 Mercury Business Awards where she was presented with the coveted title of 'Best Employee'.
Rose was presented with her award at a gala dinner by Councillor Kelham Cooke, award sponsor and leader of South Kesteven District Council. As he handed over the trophy, he commented that Rose had stood out for her many acts of kindness and the way in which she constantly went the extra mile for both her clients and her colleagues.
Clients & fellow Care Professionals praise Rose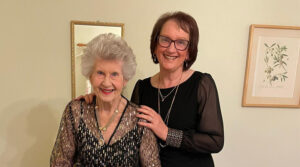 Pictured: Rose and one of her clients, Elizabeth Cheffins
Our team was joined at the awards ceremony by one of Rose's clients, Elizabeth Cheffins. In praise of Rose, she said:
"I really can't speak highly enough of her, I think she is brilliant and goes way beyond what is expected. One of her special talents is to see and anticipate what needs doing. I don't need to ask her, she just spots things and gets on and does them."
Another client commented that:
"Rose is really funny, she makes us laugh. That's a big thing and a really important part of her visits. We always feel better after she has been and really regard her as a friend as well as a carer."
Fellow Care Professional Bev Bouman adds:
"A few lines are not long enough to tell anyone about Rose. Multi-talented in so many respects. Rose is a one-of-a-kind person. She was my rock when I started with Radfield Home Care, nothing was too much trouble. She inspires confidence in people, as she shines by example. We at Radfield are lucky to have her as a leader of the team".
After receiving her award, Rose said:
"I really can't believe it. I was surprised and humbled to be nominated for the award, but to win it is amazing! I feel that I am just doing my job in a way that comes naturally, which makes the recognition particularly special.

I had always felt strongly about how important the care profession is, having personal experience of caring for members of my family. My Mum said 'promise me you will follow your heart and work in care because you will make a great carer for somebody'. I knew this career path would make us both happy, and it has!"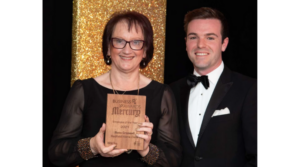 Pictured: Rose at the Mercury Business Awards
The Mercury Business Awards were established in 2005 and have become a 'must' in the business calendar. The awards celebrate excellence and showcase the achievements of local businesses and the people who work for them. Last year, Radfield Home Care Stamford, Peterborough & Rutland won the 'Best new start-up' trophy and were recently rated 'Outstanding' by the Care Quality Commission.
If you would like to find out more about careers with Radfield Home Care and how you can join our team, you can visit www.radfieldhomecare.co.uk or contact the branch directly on 01780 755 722.