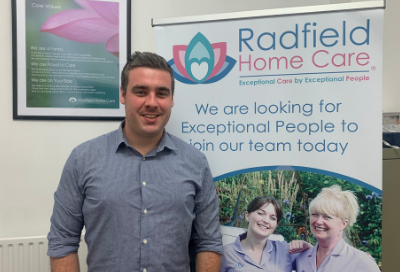 Lewis Collins
Recruitment & Training Manager
About Lewis
We would like to introduce you to Lewis Collins, Recruitment & Training Manager at Radfield Home Care Shrewsbury & Oswestry. Lewis is responsible for recruiting our care team. He ensures that all potential Care Professionals are suited for the role and provides a smooth onboarding process for them.
Lewis has a varied background, initially attending the Defence Sixth Form College as an Army Bursar and continued on the Defence Technical Undergraduate Scheme with the Army Reserve at University until 2012.
Upon leaving University, Lewis was accepted into the A-Level accelerated Management programme with a very high profile supermarket chain. He managed a team of 15 colleagues and sometimes the entire store in both the Superstore & Extra formats. He became heavily involved in the recruitment & induction of new colleagues, giving him first experience in recruitment and retention.
Lewis then moved into a recruitment role in the IT & Digital space, going on to work as an Account Manager for a Digital Design Agency in Shrewsbury for 18 months.
During lockdown, after a year of working from home alone – he felt the call to switch to a more 'people focused' role. Enter, the social care sector. Lewis worked for a local charity as a support worker with adults with learning disabilities. After 9 months, he spotted the Recruitment & Training Manager role at Radfield Home Care.
"Maintaining my desire to stay in the Social Care sector, with a more Managerial role that would allow me to influence things in a positive way more readily, I applied, interviewed and was accepted. I am also currently undergoing selection to be a Soldier again in the Army Reserve in my spare time, away from work, hoping I can build on my managerial abilities and skills in other areas through that venture."
Lewis goes on to say:
"The social care sector can be a shock to the system for anyone without previous experience, however the rewards are massive. There was certainly a desire to stay in the sector, I enjoy making a difference to people's lives on a daily basis, however small. Knowledge of what I was getting myself into was pretty important for me and helped my transition into a more office based, holistic type management role."
Before moving into recruitment, Lewis had completed a care certificate during his time as a Support Worker, the same as Care Professionals do at Radfield. He also holds various First Aid & MAPA related certificates. By obtaining these skills, he has developed an understanding of what the Care Professionals on the ground are working with on a daily basis.
"Hopefully my interviewing, onboarding and induction skills will put me in good stead to identify good quality Care Professionals, and make their transition to Radfield as seamless as possible, understanding the challenges in recruitment in the Care sector as a whole."