Digital Marketing for UK Small Business and Franchise Sector
With it being so busy in the build-up to Christmas, and some other exciting news dominating our time, it's only this week that time pressured tasks are beginning to ease. Some weeks ago, I headed along to Google's London HQ for their Inaugural British Franchise Associations event, in partnership with @PushGroup called 'Building a stronger future for your network'.
Here at Radfield Home Care, whilst we are new kids on the block in UK Franchising, having launched  in 2016, we're always keen to get ahead of the game, and I've always found Google events a useful way of keeping up-to-date with all things Digital.
It was great to see Google reaffirming its efforts, both here in the UK and US, reaching out to strengthen ties and offer further support aimed at small businesses and sole traders. The talk was very specifically focused on how a British franchisor can build their network and grow their business using Google services (of course 🙂 ) and more broadly how to attract and recruit the right franchisees.
I was very pleased to say this event did not disappoint. It was very well run and no different to many of the previous UK digital conferences I'm privileged to attend each year. For this reason, it was great to be able to go back to Google HQ and attend this collaborative event, as it's hugely important for our team to keep learning, innovating, networking and improving.
The agenda and speakers were varied. We heard from @Pip Wilkins Chief Executive from the bfa, @WimWauters from Google, @Steve and @Ricky from PushGroup, followed by @Brian Duckett from The Franchising Centre and lastly @EmilyPrice from the bfa,  who hosted a Q&A session.
I have recapped the key points from the one-day event which I hope you will find useful and a reminder for those who perhaps are new to digital marketing, what to expect in the months ahead. This provides a priority bullet point list of actions for increasing awareness of your franchise business.
Introductions
Bfa Digital Transformation – The opening address from @Pip Wilkins gave me the impression the bfa themselves have recently undertaken transformation change from within and are starting to see the benefits – posting some impressive numbers.
Bfa 2016 initiatives driving change and growing franchising in the UK; Pip highlighted examples; such as #GetYourPFC – the Prospect Franchisee Certificate course which provides education and training about the opportunities available in franchising, the new bfa website, and access to valuable information via webinars and video testimonials.
Growing bfa reach and an engaged franchise community; Pip shared some headline numbers from her team. The bfa properties in 2016 grew its base of engaged users; e.g. Twitter +145%, LinkedIn +45%, which combined across all platforms has created an audience of 15,000 people to engage with on a regular basis. Progress in 2016 has no doubt been because of omnichannel adoption and new social media presence. It goes without saying, further digital investment and resource has been committed in 2017 to sustain growth and to continue the transformation.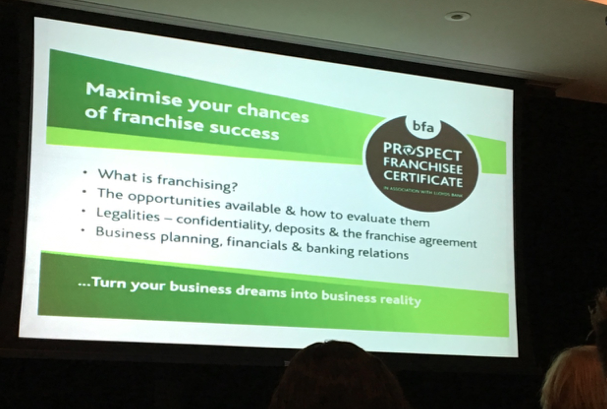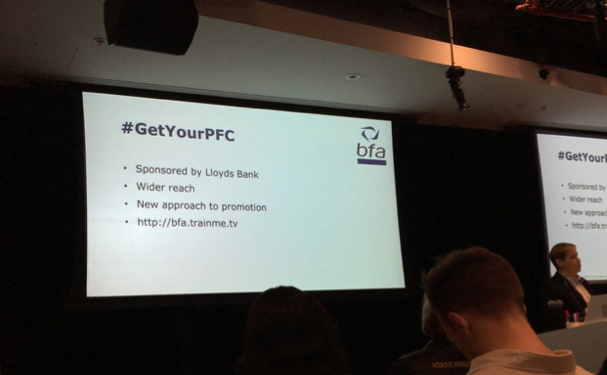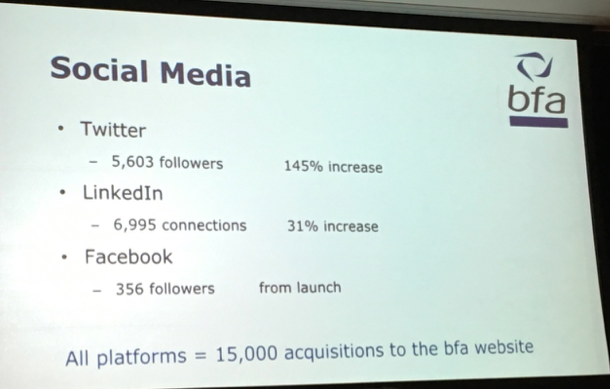 Driving Franchise Growth through Digital
Next up, was @WimWauters from Google who spoke about 4 key digital drivers relevant for franchisors strategy in 2016/ 2017.
Digital Acceleration and Media Consumption
Mobile, Mobile, Mobile
Importance of Local, and
What's next in Digital
Our Media consumption habits have changed. Franchisors can no longer think of directory site listings as the route to success. Could they ever? Will shared Average time spent per day by UK adults have doubled for Digital in 2015  vs  2011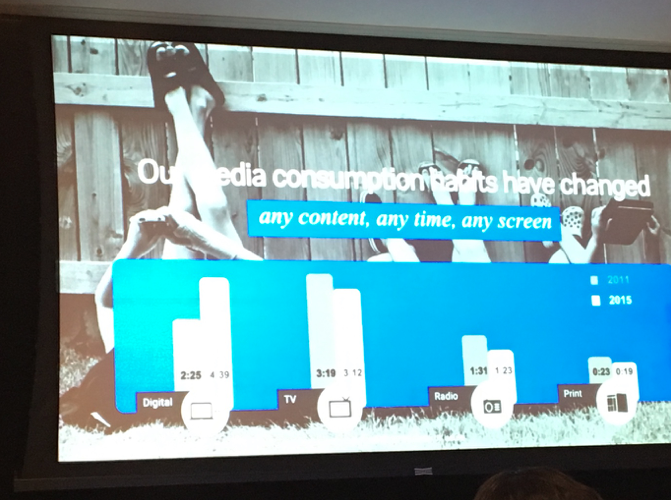 There are 3.3 connected devices per person according to the Connected Consumer Study. Just think about that for a second. The average person has over three Internet-connected devices. Not surprising when you think of TVs, mobile phones, laptops, iPad, and desktops etc.
Wim then introduced us all to a new noun; Nomophobia.  The proposed name of the phobia of being out of mobile phone contact. We were all impressed by the statistic that on average a UK persons mobile phone was no more the 3.5metres from them 100% of the time, which utterly reflects the deep and personal importance of today's mobile device. How do Franchisors take advantage of this opportunity to build their network and grow their business?
@WimWauters then sent us back to the future. Looking back on 2015 when mobile exceeded desktop searches. He shared a whole host of stats which emphasised the importance of having a fast mobile experience.

61% of users will leave your site if they cannot find information right away
This statistic from the day is probably my favourite;

Compared to a site that loads in 1 second…
After 3s, bounce rate increases +50%, conversions decrease -22%
After 5s, bounce rate increase +105%, and conversions fall -38%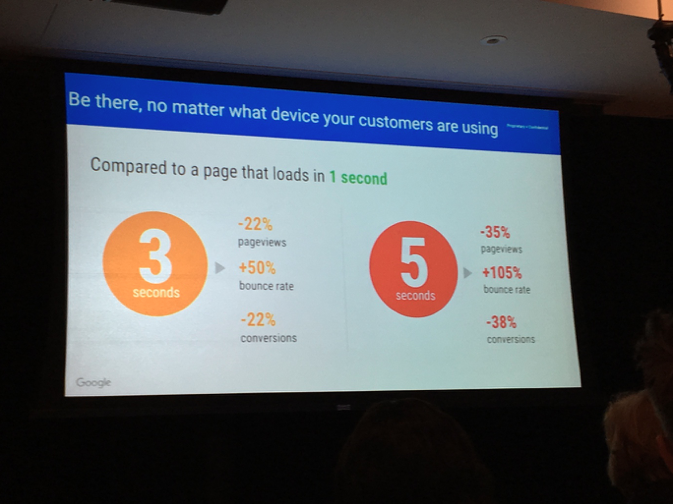 Searching for local information has increased significantly

30% of all Google searches now have some sort of local data/search intent (not just mobile – mobile now has greater than 90%) – What does all this mean for a franchisor/ franchisee? Consumers are searching for local information everywhere, on every device, at every point in the purchase process. You should make sure your product availability and directions appear in your ads across smartphone and computer/tablet. And ensure your locations are in Google Places consistently for best performance.
61% of consumers researched a day or less before purchasing. Just pause and think about the importance of this point.
83% of consumers will use a search engine when looking for local information. If you cannot be found online, you are literally cutting yourself and your franchisee out of over 80% of their potential customers. Who in their right mind would consider this a good strategy? In my experience as a digital marketer for over 15 years, search is a vital building block to master, before embarking on further channels.
But, if that did not convince you of the importance of Mobile and Local, @WimWauters at Google shared that 46% of consumers said waiting for slow pages to load online was what customers disliked the most when browsing the web on a mobile device.
So, not only is it important to have a mobile optimised experience, it must be fast too.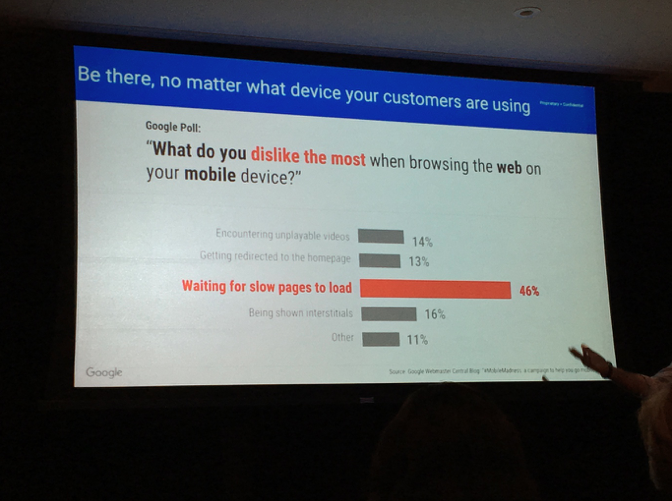 Create a strong digital strategy for your franchise covering both national and local objectives – I lied sorry :-), this was my favourite and most impactful slide from @WimWauters and possibly from the day, from a personal perspective – showing how best to consider where to allocate your precious resources as a franchisor to be successful. This is a simple time and #fail saver! Will's advice comes from loads of experience of how best to build a strong digital strategy for the start-ups/new businesses and those who've done it for years… know the following:
NATIONAL CAMPAIGN: Activity should focus on branding, video and display channels. Establish a shared budget and laser target wider geographies, north west, south west of England for example. Provide general content/ run national promotions.
LOCAL CAMPAIGN: Campaign activity should focus on specific locations such as cities or counties and be targeted using mobile and search opportunities. This is important and obvious at start-up stage, but focus can be lost once franchises scale and want to try something new. The recommendation is to agree and allow individual budgets for each local campaign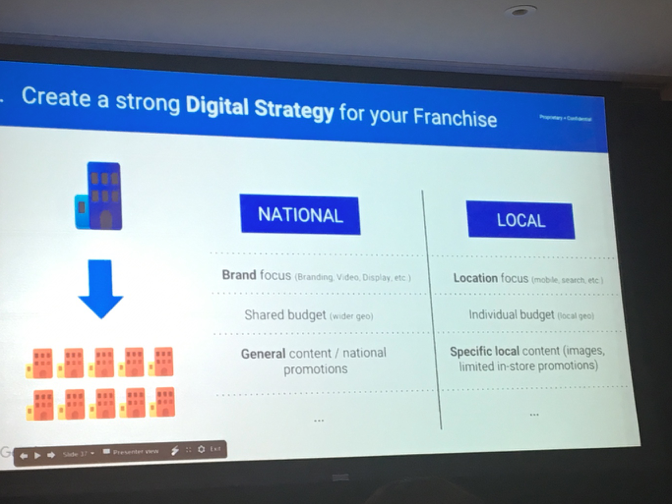 How to Build Your Franchise Network
Next, I was personally looking forward to hearing Steve Hyde from Push Group who joined the stage to discuss a two-part session; (1) Building your franchise network, and (2) Building your franchise business.
If I had a pound for every talk like this I've sat in over the last 15 years… was my initial feeling, but I was very pleasantly impressed with Steve who gave a very current, open and transparent talk on what works, and what's realistic. He even managed to open his talk with a quote from Google which only 1 hour earlier was muttered from Gary Illyes Pubcon talk on Google's move to a mobile-first index. You can't get much more up to date than that!
Steve eased us in with background to how Push started back in 2012 and some nuggets of advice based on some tough learnings Push took from their journey into Agency life.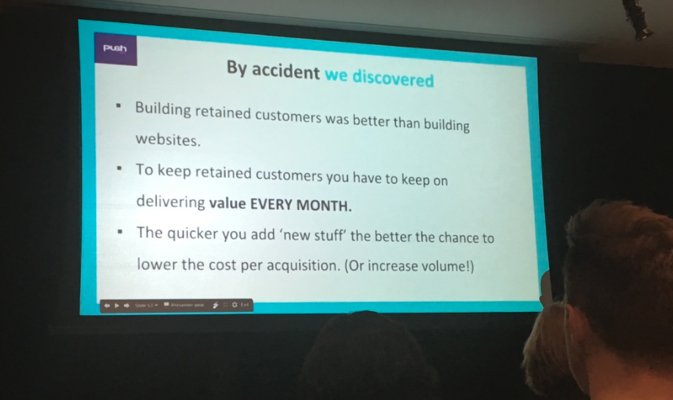 Steve generously offered free PPC audits for all attendees to benchmark their accounts. Detailing all the aspects the audits typically should cover.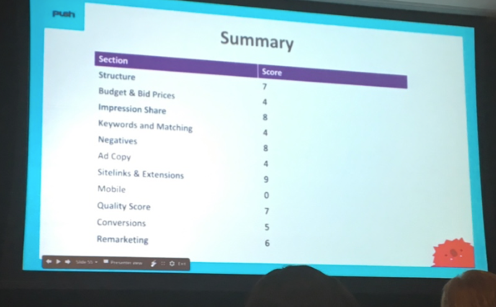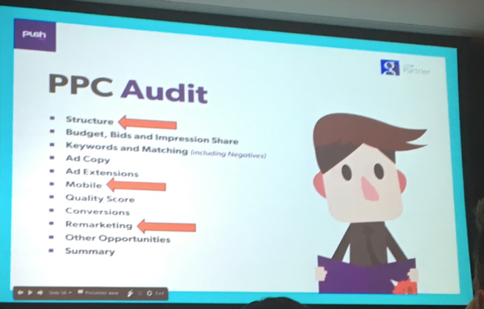 The future of search is something that few people outside of Google can predict with any real authority, yet it's an incredibly important topic for digital marketers.
Future of Search, according to Push – Steve talked about the promise of search powered intent – which is,  search that considers what you mean, not what you say. In other words, Implicit queries and signals- such as location, device, connection type etc. All of which allow Google to personalise results to individual queries.
This reminded me of one of Sergey Brin's guiding principles:
"My vision when we started Google 15 years ago
was that eventually you wouldn't have to have a search query at all.
You'd just have information come to you as you needed it."
Sergey Brin – Google Founder TedXRoma – Google Glass Launch – 2013
Steve reminded us all, just how far implicit search has in fact now come, using a great video from hound. I could visibly hear the widening mouths left open from other attendees watching the video below in amazement.
"Is that actually possible now?" one person from the audience shouted at Steve.
The reality is that as UK Franchise owners we must quickly adapt to an ever-changing mindset and embrace the change and capability of our modern world.
Think digital first – Steve raised important questions you must answer honestly as a franchise owner. Is your senior franchise team digitally literate? If not, what are you doing to educate and upskill your leaders and teams?
What does your business model mean for younger people? Are these things that are holding your business back from reaching its potential?
How to Build Your Franchise Business
So, how do you build your UK franchise business using digital best practice? Steve was later joined by his colleague @Ricky Solanki From Push who also gave excellent practical tips and tricks to effectively grow your Franchise.
Steve and Ricky both covered a huge amount of advice which I've bullet pointed the highlights, as best I can:
Best Practice Marketing Channels for Franchise Advertising:
SEO vs PPC
Search Advertising
Display
Remarketing
Social Media Advertising
Gmail Advertising
Landing page optimisation
Franchise Marketing Tips and Tricks:
The first step to Adwords success is that you need to find and discover keyword/ content themes – both regionally and nationally is especially important, depending on your master franchise business model.
"Near me" searches tie in with mobile search growth. Are you appearing and how can you take advantage? Often the role of an SEO, but equally relevant and important for Paid Search. You must verify each business location via Google MyBusiness to improve visibility for these queries.
3 Bottom slots still work well for PPC. You can expect fewer clicks and impressions compared to above the fold, but you'll gain from decreased CPCs, (Cost Per Click) and CPAs. (Cost Per Acquisition) And if done correctly, you can increase conversions of upwards of +20%.
Expanded Ads increase CTR (Click through rate) by 25-50%. Need to be prepared for the switch end of Jan 2017. Google has bumped Expanded Text Ad deadline.
Device bidding is back  –   Control to change your Adwords bid for each individual device has changed again. This was previously restricted and based on your default desktop setting. Go now and optimise bids and visibility for each specific device!
Responsive Ads for Display network – responsive ads for Display is an ad that automatically adjusts its size, appearance, and format to fit available ad spaces on the Google Display Network. Previously this has not been possible and accordingly offered a poor user experience.
Next generation Local Search Ads – Google's yet to be released "next generation" local search ad format is designed to drive more foot traffic to your physical location by optimising the Google Maps experience. This is planned to be achieved via new functionality such as; Promoted Pins (including brand logos), in-store promotions, customisable business pages, and local inventory search. Surprisingly since announcing planned changes in 2016, this is yet to go live. What I have no doubt on is if your business has a physical location and you want to grow, then it's extremely important that you make it ridiculously easy for people to find you online when they pull out their mobile phone to search for what you sell.Additionally, do this by verifying your business via Google My Business. Expect Google in 2017 to monetise Google Maps like they have done to Shopping ads previously.
Maximise Video on Mobile consumption through the journey. Make your own Business Video using Youtube Director for Business App. Also, use TrueView discovery Ad formats.
Set your PPC Adwords management policy for your franchise. Decide the best Paid Search Account model for your franchise. This is critically important for how you establish your franchise value add, control your Adwords Billing, Account Structure, and Agency communications etc. The table below looks to summarise the typical options: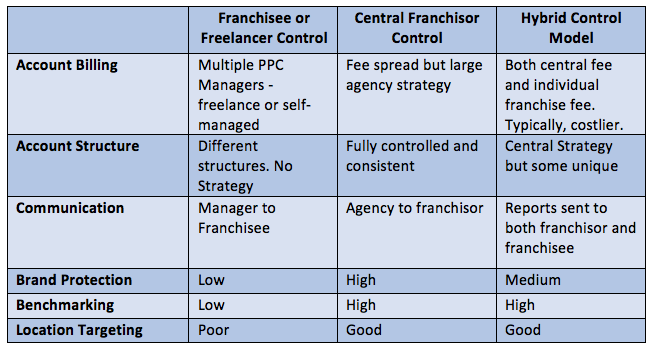 There is a strong argument that the Franchisor should own the paid search process, as this should be a benefit of joining a franchise, whereby you are effectively paying for a proven marketing system and therefore it makes sense you use all the available data to drive successful franchises forward.
Like anything, however, there are pros and cons to central management of your Franchise Adwords accounts:
Advantages of a Central Managed PPC Adwords Account for Franchisee's

Benefit from shared learnings
Standardised reporting for benchmarking
No cross bidding especially on locations
Pooled Adwords accounts benefit from higher level services
Control retained by Franchisor
New Google Adwords features/changes rolled out across all areas.
Disadvantages of a Central Managed PPC Adwords Account for Franchisee's

How do you assign budget to each franchise?
Price and volume of impressions and clicks varies location to location
How does franchisee pay for Google Adwords costs?
Increased communication for Franchisor – additional dedicated resources needed to manage this effectively.
Managing budgets for Franchise Adwords accounts must be structured differently, built for scale. Typically, you can expect an account-level budget to be set, prioritised by top performing campaigns. You might have similar geography settings across the board with CPA/ Volume targets set at an account level. Ordinarily, you then have the freedom and flexibility to build upon the account structure and optimisation together with more campaigns and testing.
With Franchising Adwords advertising, budget management is different to normal accounts.
Budgets are likely to need to be set at Franchise level. Split by region, or area for ease of reporting back to individual franchisees. Focus should be on the most specific and targeted terms per branch to reduce any chance of wasted media spend.
Best Adwords advice is to use automation to control budget by day, and by area using scripts. This will allow you to plan for capacity and pace spend throughout each day. You can set up notifications to alert managers when budget cuts out.
Remarketing, Display and Branding activity need to  be sourced from a shared budget pot, as it's very difficult to trace back exact returns per location for more general campaigns so this should be done collectively as a shared budget.
Ensure 1-3 campaigns per branch is set up max – without this, it will be difficult to scale if there are more than 5 franchises.
Location targeting is always an issue – if centrally managed, this should result in less waste of budget.
Get Set for Franchise Growth
The next session from Brian Duckett from the Franchising Centre, from his own admission, took a slightly different pace, opening the discussion with a thought-provoking racehorse analogy.
Brian asked the simple questions about business, that only someone with experience could, to focus us all on what's important; The Why?
"We've hit a plateau and we need to grow"
"We've lost our mojo"
"We've lost our way"
"We've had enough and I want out"
"We just need to be more profitable"
He outlined a value-add process he experienced first-hand and had adopted to offer as part of his consultancy services in his day-to-day.
Why would anyone not want these benefits for their Franchise business?
Clear direction and goals
More efficient and easier to run
Better relations and a stronger team
More profits to draw or re-invest
Better recruitment and retention
Worth more when you want to sell
Lastly, Brian touched on the value of staff engagement leading to job satisfaction. Using his approach 93% of clients achieved an engaged status within a year. This can lead on to transformational change and improvement throughout for franchisors and franchisees businesses.
I found Brian's discussion and position was a professional agitator of the franchise business and business owner. He demonstrated change "can" be implemented within the organisation, the by-product of which is customer and client engagement which supports the growth and ambition of individuals and the business.
Overall, we learned a lot from the event. I hope to attend many more bfa events like this, as we all journey through the world of franchising together.