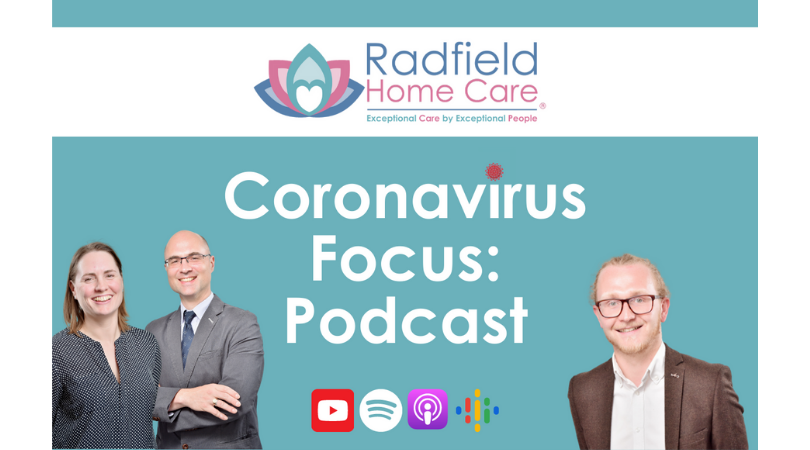 Radfield Home Care Franchising has launched a new video and podcast series discussing the impact coronavirus has had on the home care marketplace and its national network of franchise partners.
Following record growth in recent months for Radfield Home Care's franchise network, the new series is designed to answer common questions many people have about launching a home care business during these unusual times.
Franchise recruitment manager and podcast host, Ed Gill will be posing the difficult questions to Radfield Home Care's franchisors and leadership team. They will be discussing the impact of coronavirus on the network's recruitment, the delivery of client care and support services, as well as the overall impact on growth during these recent weeks.
---

"Understandably, a lot of people considering launching a Radfield Home Care franchise have had a lot of questions about coronavirus in recent weeks and months," Ed explains.

"Our franchise partners have continued to grow and, most importantly, been able to provide services that keep their clients and care professionals safe. However, society as a whole has witnessed coronavirus have a devastating impact on a number of other sectors and the economy as a whole. The new Coronavirus Focus series will explain why Radfield and the wider home care industry has remained stable, and in some cases even grown, during these times when other industries have faced serious challenges."

As well as discussing the key factors of Covid-19's impact on the home care sector, viewers and listeners will also be able to ask the Radfield Home Care team their own questions. "This new series has been designed from the viewers point of view and we want to make sure we are answering the key questions they want to know about," franchisor, Dr Hannah MacKechnie explains.

"This series is a must-watch for anyone considering launching a home care business in the coming weeks and months. We will be disclosing our first-hand experience of delivering a safe service and supportive work environment during the pandemic, whilst maintaining sustainable business growth."
---
An introduction to Radfield Home Care's Coronavirus Focus series is available now with the first complete episode of the home care podcast launching on Friday 10th July at 13:00. A new episode will be available every week at the same time. You can watch the series on YouTube and Facebook, as well as listen to the entire series on your favourite podcast platform, including Apple Podcasts, Spotify and Google Podcasts.
If you're looking for your next opportunity in a resilient sector with proven growth during the recent Covid-19 pandemic, Radfield Home Care may be for you. To find out more about franchise opportunities near you, contact franchise recruitment manager, Ed Gill on 01743 548 550 or [email protected] to discuss the franchise offer. Alternatively, you can discover more about franchises for sale near you here.