For the third year running, award-winning franchise Radfield Home Care has achieved multiple accolades in the leading Homecare.co.uk Top 20 Awards.
As well as achieving the prestigious national Top 20 Home Care Group title for the third consecutive year, six of Radfield Home Care's franchised businesses also triumphed within numerous regional categories. Judged based on client feedback, the Radfield Home Care network stood out amongst 14,000 reviews over a two-year period.
With 50% of the Radfield Home Care UK franchise network's offices being recognised, Radfield now holds Top 20 status in London, Yorkshire & Humber, West Midlands, the North West and East Midlands regions – as well as nationally.
Radfield Home Care's founder and director, Dr Hannah MacKechnie is excited about what the accolades mean for the business:
"This is the third year in a row we have been recognised in Homecare.co.uk's Top 20 awards, and it's great to see that half of our entire franchise network is now recognised for the high quality of services they deliver to clients.

The awards highlight the focus Radfield Home Care's franchise model has on high quality care and the impact this has on the success of our franchise partners' businesses – with some of our locations now consistently holding Top 20 awards since their launch."
One of Radfield Home Care's Top 20 winners in Stamford, Peterborough & Rutland only began delivering home care services in late 2019 and franchise partner, James Beech, puts their success down to their fantastic care professionals:
"We started our business in October 2019, so we were particularly thrilled to receive a 'Top 20′ award at such an early stage of our development. Our ethos from the outset has been to recruit exceptional people to deliver exceptional care, and it is wonderful to see this approach validated.

"We have been overwhelmed by the lovely reviews received from those we care for, as well as their families and friends. Our care professionals are simply amazing and deserve every bit of credit; we couldn't be prouder of their unstinting efforts to go the extra mile to help make lives better."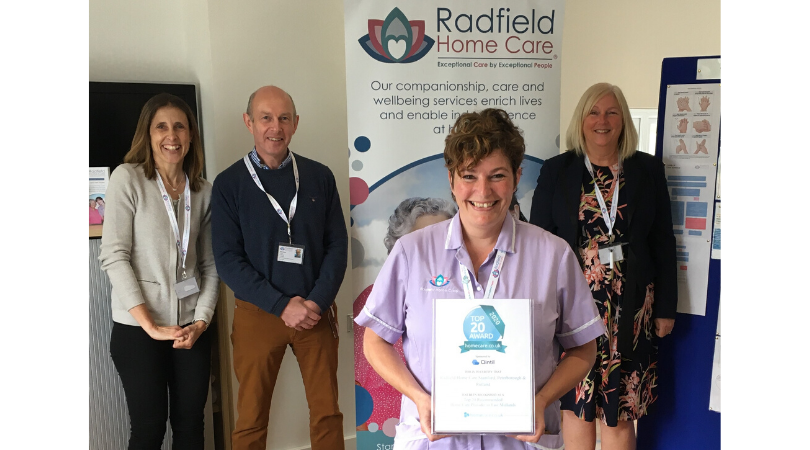 Pictured: Radfield Home Care Stamford, Peterborough & Rutland office with their Homecare.co.uk Top 20 Award
As the current British Franchise Association (BFA) HSBC Emerging Franchisor of the Year and an Elite Franchising Top 100 franchise, Radfield Home Care is one of the leading UK franchises. The recent Homecare.co.uk accolades are another testament to the strength and success of Radfield Home Care's business model and franchise system.
If you are interested in finding out more about franchise opportunities within your local community, contact Radfield Home Care's franchise recruitment manager, Ed Gill on 01743 548 550 or [email protected] to discuss the franchise offer. Alternatively, you can discover more about franchises for sale near you here.