Embarking on the journey of caring for an older loved one is more than just a logistical task; it's very often an emotional one that involves the entire family. It can also come down to fulfilling promises we've made – promises to help maintain a loved one's independence and support them to live in their own home for as long as possible.
At Radfield Home Care, we don't just provide care services; we help you honour these commitments, ensuring that relationships can continue to thrive and flourish.
Director Samuel Holmes grasped the complexities and emotions involved when he founded Radfield Home Care Bexhill, Hastings & Battle. Drawing on his personal experiences as a specialist social worker for older people, he fully understands both the challenges and the emotional investment involved in caring for a loved one. It's this insight that fuelled his desire to create something truly exceptional – a live in care service that goes above and beyond meeting basic needs.
In Samuel's Words
"For over 6 years, we've been on a mission to provide high-quality domiciliary care in Bexhill, Hastings, Battle and all surrounding villages. We're proud that our dedication to providing the highest standards of care has been recognised with the coveted 'Outstanding' rating from the Care Quality Commission (CQC) and a perfect 10 out of 10 score on homecare.co.uk

Building on this legacy, we've expanded our services to include an equally exceptional live in care service. Our aim is simple – to keep you connected to the things that matter most to you, all in the comfort of your own home."
What is live in care?
Live in care involves a highly trained professional residing with you to provide 24-hour, around-the-clock support. But we cater to more than just individuals; we offer a bespoke service that also supports couples. We empower you and your loved ones to continue living in your cherished environment, where comfort remains and memories can continue to be made.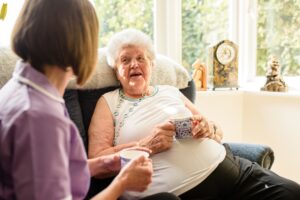 What's Included in live in care?
When you opt for our live in care service, you're choosing comprehensive, around-the-clock support tailored to your unique needs. Here's what you can expect:
Continuity of Care: A small and dedicated team of carers provide consistent, highly personalised care.
Bespoke Care Plan: Customised care plans are crafted to cater specifically to your needs and preferences.
Personal Support: From daily activities to personal hygiene, we're here to assist in all aspects of daily living.
Medication Assistance: Never worry about missing a dose again; we help manage your medication schedule.
Nutrition: We can prepare or cook a wide variety of nutritious meals to meet your individual requirements.
Companionship: More than just care; we provide meaningful companionship to keep you connected to what you love.
Laundry, housekeeping, and domestic assistance: Your living space will be kept tidy and comfortable, thanks to our dedicated housekeeping services.
Shopping: Need groceries or supplies? We've got it covered.
Social Activities: Whether it's a walk in the park, a trip to the garden centre, or coffee and a catch up at a friend's home, we encourage and facilitate social engagement to enrich your life.
Pet Care: Because pets are family too, we can ensure they're fed and well looked after.
Home is where the heart is
Your home is far more than just bricks and mortar; it's a space where countless memories have been created. It's where you've laughed, celebrated milestones, and created memories, spending ordinary yet extraordinary moments with your loved ones. In essence, your home is a key element of your sense of self and a vital chapter in a person's life story.
Understanding the profound emotional and psychological significance that 'home' holds for you and your family, we've carefully crafted our live in care services. More than just fulfilling your day-to-day needs, our aim is to empower you to live with dignity and self-reliance, all while remaining connected to your cherished home.
The importance of the right match
The right match between clients and carers is crucial, and that's where Radfield Home Care truly shines. With meticulous training and empathetic understanding, our live in carers are more than equipped to provide a high standard of care for your loved ones.
Continuity of care is also incredibly important to us, and we match our clients with a small team of carers that rotate on a schedule we agree with you. This ensures a deeper connection, making the experience more personal and enriching for everyone involved. Our live in carers aren't just staff; they're compassionate allies who are trained to adapt to your lifestyle and are dedicated to providing just the right level of care.
The balance of privacy and support
We understand the fine balance between offering continuous, attentive care and respecting your need for personal space and solitude. It's not just about being present; it's about being present in the right way, at the right times. Your home is where you should feel most at ease, where your privacy is respected and your individuality cherished.
Our carers are trained to navigate this sensitive balance with professionalism and empathy. They offer the security of constant care without ever intruding on your personal boundaries. Whether you need assistance with daily tasks or simply a friendly ear, our carers are there when you need them, providing peace of mind while allowing you the freedom to be yourself in your own home.
We always tailor our services to your specific needs and preferences. Whether it's knowing when to step in and offer help, or understanding when it's time to step back, our focus remains on making you comfortable and secure. With Radfield's live in care service, you can rest assured that your well-being is looked after in the most respectful and non-intrusive way possible.
Making financial and emotional sense
Opting for live in care means you don't have to sell your family home. In fact, it's often comparable cost-wise to moving into a residential care home. You can remain in your own community and the home where you've created precious memories, preserving them for the next generation.
"Being able to keep my promise to my dad to help keep him at home meant the world to me," shares Ann, daughter of one of our clients.
"When Samuel visited us for the first time, he spoke directly to my dad, not just to me. The care was so personalised that I could be a daughter again and let the professionals do what they do best. It gave us back our former relationship and helped ease the pressure on my siblings too, something I will always be grateful for."
Flexibility for couples
Life is better together. At Radfield Home Care, we celebrate this enduring connection by offering individual care plans designed to meet the needs of both people in a couple if required. Our holistic approach considers not just health needs but also the emotional and social aspects of your life. Whether it's assisting with daily tasks, providing medication reminders, or simply being there for companionship, our live in carers are trained to adapt to your unique set of circumstances. This enables you and your partner to continue enjoying the comfort and familiarity of your own home while receiving the quality care you both require.
Preserving daily routines and independence
Your daily routine isn't just a schedule; it's a source of stability, comfort, and purpose that enriches your life. Whether it's assisting you with preparing your favourite meals, taking care of your cherished garden, or helping you continue with your hobbies, our live in care professionals are committed to supporting your independence and enriching your days. We understand that these seemingly simple tasks contribute significantly to your overall well-being, keeping you connected to your interests and allowing you to enjoy life on your terms. With us, you don't have to relinquish control; instead, you gain a helping hand, so you continue to live your life as you wish.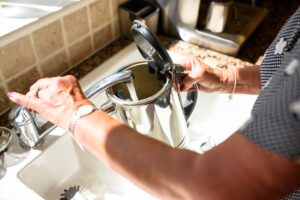 More than just care: Companionship
At Radfield Home Care, we know that wellbeing goes beyond meeting physical care needs. That's why our live-in service offers emotional support and companionship. Recognising that social interaction is a cornerstone of a fulfilling life, especially as we get older, our live in carers are selected as they are personable, warm individuals who genuinely enjoy building relationships with our clients.
It's the genuine human connection our carers develop that nurtures your spirit, alleviates loneliness, and adds a sparkle to your day.
Letting go of stress and holding onto memories
With our live in care service, you never have to give up what makes your house a home. We understand that every item, no matter how small, tells a story or evokes a treasured memory.
Your favourite chair that cradles you just right, the pictures on the wall that trace your family's history, and even the little trinkets and mementos that you've gathered over the years – they're all integral parts of your life. That's why we make it a priority to ensure they continue to hold pride of place in your home. We want to maintain not just your physical well-being but also your emotional connection to your surroundings. It's about preserving the intimacy and comfort that makes your home uniquely yours.
Pets are part of the family
Your pets are more than just animals; they're members of your family, offering comfort, companionship, and unconditional love. That's why we believe they too deserve to stay in the familiar comfort of their home. When you opt for our live in care services, your furry or feathery friends will continue to receive the love and attention they're accustomed to – right alongside you.
Our compassionate live in carers can assist with pet care, ensuring they receive their meals on time, get their much-needed exercise, and most importantly, enjoy lots of cuddles and strokes. In this way, not only are you able to maintain your lifestyle, but your pets can continue to enjoy theirs.
The freedom to choose your own food and meals
At Radfield Home Care, we understand that mealtimes are more than just about sustenance – they're a key part of your daily life and should be something you look forward to. Whether you crave the comfort of a traditional roast dinner or desire the freshness of a light summer salad, our live in carers are committed to making it happen. They won't just prepare the meal; they'll also shop or order the food too.
If you need a helping hand to cut your food, or simply prefer someone to share the mealtime with, our carers are right there to assist. We aim to make every meal a joyful experience, preserving the dignity and satisfaction that comes with eating what you love, the way you love it.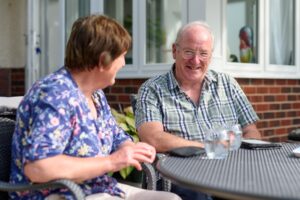 Care expertise; providing a live in care service
At Radfield Home Care, we go the extra mile and can offer one-to-one care for people living with a variety of conditions. Some such as a stroke, dementia, and Parkinson's disease, require an enhanced level of care expertise. For us, it's not just about offering specialised care plans; it's about bringing a sense of normality and security to lives of people that have been disrupted by illness. Our well-trained carers come equipped with the skills and the latest knowledge in condition-specific care and can work with you to implement strategies to manage symptoms, enhance cognitive functions, and improve overall well-being.
But the impact doesn't stop at the person receiving care. When you know your loved one is in capable hands, the stress that often accompanies being a carer eases. It allows you to be a daughter, son, or spouse again, rather than a full-time carer. Families can reconnect in a way that would be impossible if they were acting as full-time carers.
Your family's peace of mind is our utmost priority. When you feel secure, joyful moments can bubble to the surface, and quality time together is spent making cherished memories, rather than grappling with challenges and problems.
Maintaining emotional well-being in end-of-life care
Live in care works tremendously well for people who want to die a good death at home. Our live in carers understand the complexity of this sensitive time and can focus on keeping you or your loved one as comfortable as possible, whilst providing emotional support.
Trained in palliative care protocols, our carers are skilled in administering pain management and medication as well as liaising with healthcare providers to ensure seamless, integrated care.
Our end-of-life service is holistically designed to respect your choices and wishes, enabling you to spend quality time with your loved ones in the peacefulness, familiarity and comfort of home.
Ready to find out more about Radfield live in care service?
The journey to outstanding, compassionate live in care starts with a simple conversation. When you're ready to explore what life can look like with Radfield live in care by your side, we're just a phone call away.
Simply call us on 01424 559 202 to speak directly to our dedicated team.
We're looking forward to sharing how we can help give you and your loved ones the care and peace of mind you all need and deserve.