At Radfield Home Care Havering & Brentwood we are on a mission to support our local community. We want to help them age well and remain connected to what matters most to them. To do this, we support and develop our Care Professionals to be there for our clients.
Developing resilience as a Care Professional is key. There can be many hurdles to overcome, so our ability to bounce back is essential to better support ourselves and our clients. No matter your starting point, you can continually develop your ability to bounce back.
Our experience shows that the most resilient Care Professionals know themselves and have developed strategies to manage the more challenging days. My resilience strategy developed when my son was very ill and in intensive care. When things are tough, I think of the situation compared to that, and I realise things aren't that bad. Whilst, I wouldn't necessarily advocate this as a strategy to others, it allows me to take a big deep breath and carry on.
During the day, as private home Care Professionals, there are many reasons that we need to rely on our resilience. When you just can't open the client's key safe or a client is unexpectedly unwell, your resilience strategies need to come into play.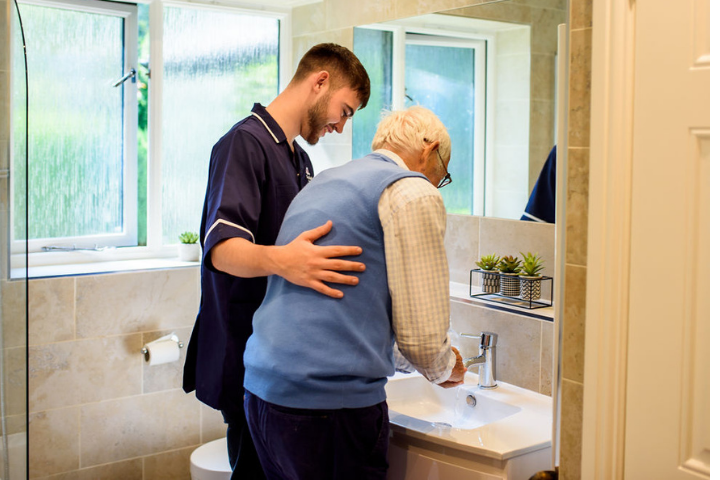 Resilience Strategy – Self Compassion
Remember:
"You might not have power over your circumstances. You do have power over your reactions."
Managing your reactions and the compassion you show yourself when things don't go according to plan is vital in a care setting as we can't always control the circumstances.
Self-compassion is showing yourself kindness, humility and understanding.
Kindness – being kind to yourself is the starting point, recognising that it is essential to soothe yourself when things go wrong. It might sound too simple, and you will probably feel that you don't have time. But this could be as simple as saying to yourself – "ok – so I struggled to open the key safe, and I feel flustered, but I am learning and doing my best."
Humility – when things go wrong, we tend to feel like things only happened to us. We may think things like: Why me? Why do things always happen to me? A good strategy is to recognise that things also happen to others. In the life of a Care Professional, most things have happened to the most experienced of us. Rest assured, I am pretty sure that every Care Professional has wanted to smash open a key safe at some point! However, if we start to see these day to day setbacks as ordinary things that happen, we can bounce back more quickly when they occur.
Understanding – acknowledging that as Care Professionals, we do a critical job in the health and wellbeing of others can help you build resilience. This sense of purpose and commitment that you have showing up for others in your work shouldn't be underestimated. So when something goes wrong, please take a deep breath and carry on knowing that you are doing good by being there for your clients and their families.
Be There Action: We often think that some people are just more resilient than we are, and that is just the way that it is. So recognise resilience as a skill to be developed. As a Care Professional knowing when to show yourself compassion to overcome challenges will help. We can all feel like we haven't got time for ourselves, but taking these small steps can build resilience and help you Be There for yourself and others.
If you'd like to learn more about the role of Care Professional and how you can help others, head on over to our Care Jobs page to find out how you can start your career in care.