LGBT+ History Festival 2022 is hosted by SAND, an organisation campaigning for LGBT+ rights in Shropshire, Telford & Wrekin. SAND stands for Safe Aging No Discrimination and as part of their campaign efforts, they have launched a project called 'The Covenant'. 
So far, Radfield Home Care is the only domiciliary care business in the region that has taken up the mantle and joined The Covenant. The Covenant encourages local businesses to sign up to 5 commitments and agree on an annual action plan for change. 
Radfield Home Care at 'The Covenant' launch
Karen Corcoran, business development manager for Radfield Home Care Shrewsbury & Oswestry was asked to speak at the launch event, held at the Shropshire Wildlife Trust on April 1st. Roughly 80 people were in attendance, with the launch night being opened by Mayor of Shrewsbury, Julian Dean. 
Karen said: 
"I was proud to be asked to speak at the LGBT History Festival and work with an organisation that knows the importance of putting change in the context of what has gone before, to challenge discrimination, increase awareness and create communities that are safe and inclusive. It was a fabulous evening of informative speakers, thought provoking films and good wine and food."
Other speakers included: Jackie Jeffrey- CEO, Citizen Advice Shropshire, Heather Osborne – CEO, Age UK Shropshire Telford and Wrekin and Debbie Price – CEO, Coverage Care Services.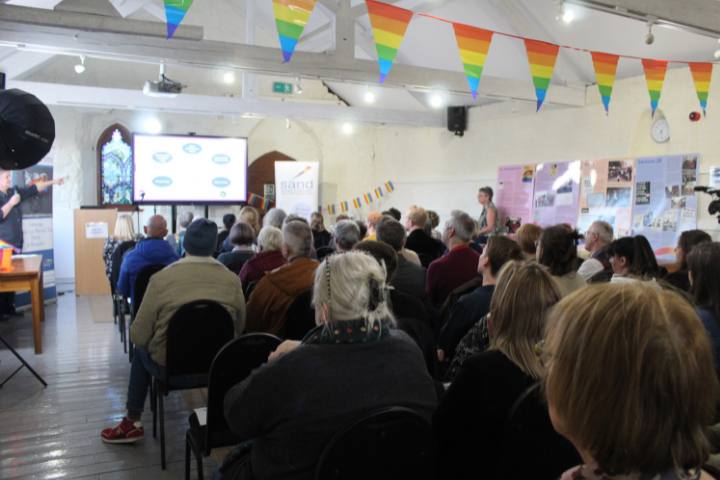 The 5 Commitments of SAND's Covenant:
Commit to providing the best possible quality services for older and old LGBT+ people

Commit to learning what life can be – and has been – like for different LGBT+ people.

Commit to vocally and visually supporting groups working with and for older and old LGBT+ people

Commit to creating meaningful opportunities for LGBT+ people and groups to 'influence' what you do

Commit to assess and evidence change, including work carried out to engage LGBT+ people (within the group/organisation and outside it)
SAND will be delivering training to Care Professionals at Radfield Home Care as part of the 5 commitments. Karen added:
"We are proud to demonstrate our dedication to the LGBT+ community by empowering our Care Professionals to speak confidently to those who identify as LGBT+."
Radfield Home Care's own Be There movement is built on 3 principles that resonate closely with the SAND values. 
BE YOU: we support people in defining, developing and living their own identities.
BE CONNECTED: we support people to enjoy and get the most out of the relationships that are important to them.
BE INSPIRED: we support people to achieve goals, both big and small, that matter to them.
If you would like to find out more about Radfield Home Care jobs and how you can join the team, please visit the vacancies page or contact us directly.