Gardening is a rewarding and beautiful pastime that holds a wealth of mental and physical benefits. According to AgeUK, Limitations on Activities of Daily Living (LADL (Including mobility)), affect 40% of older people aged 60, and 75% of those aged 80 and above. The disability is severe for 20% of older people aged 60 and 50% of those aged 80 and above.
For those with mobility issues, gardening can be problematic, but there are some things you can do to make life easier both for keen gardeners and beginners alike.
Layout, paths, tools, and choice of plant are all important factors when considering a garden for those with mobility issues.
Layout
Preparation is key to success and having a garden set out in a particular way can help to maximise efficiency and take care of yourself.
Strategically place seating around the garden in places you spend a lot of time. This will allow you to save your energy and recoup when you're feeling tired or sore.
Make garden borders no more than 2 foot wide. Being able to reach across them easily will make them far easier to manage and put less pressure on your body when cutting back foliage.
Raised beds and containers can make a garden look really attractive. But, having the beds raised has the practical benefit of being further away from the floor, meaning not having to bend down as far.
Paths
Not every garden is big enough for a path, but for those that are using walking frames or wheelchairs, they're an important feature to consider.
Allow enough space for turning. Some models of walking frame and wheelchairs can have large turning circles and so a path large enough would be needed to accommodate.
Paths that are even with a good grip are recommended. Potholes and uneven surfaces can present trip hazards, with slippery surfaces increasing the likelihood of a fall.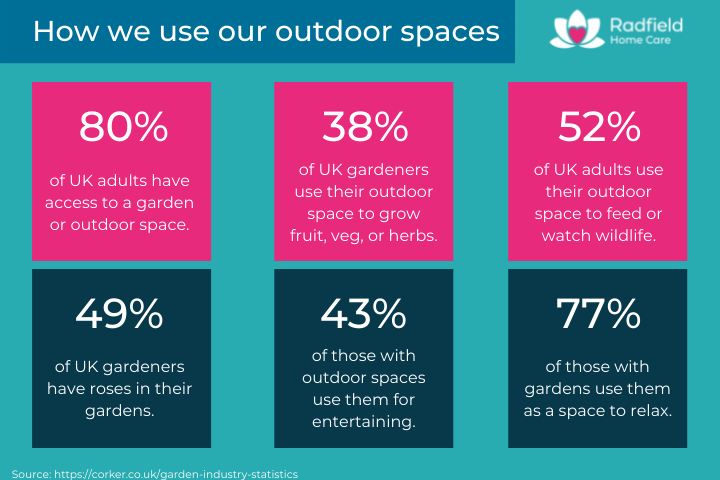 Tools
People have been utilising tools to make jobs easier since time began. A tool exists for almost every facet of gardening and can make a huge difference to the difficult jobs. There are simply too many for us to mention in this article, however here is a list of five that stand out:
Adjustable shears – A comfortable padded grip makes them easy to use with one hand.
Auto-rewind hose reel – At the flick of a switch, your hose rewinds back into its housing with minimal physical effort.
Easy grip hand tools – A soft grip with an upright style handle helps keep your wrist and in a neutral position to reduce strain.
Plastic ball seed sower – An easy to squeeze plastic ball releases seeds one at a time into the soil.
Robotic lawnmower – Remove the pain of mowing the lawn entirely with programmable robots that will mow the lawn for you!
For a comprehensive list of gardening tools that can be handy for those with mobility issues or other disabilities, check out CarryOnGardening's list of tools/equipment. It allows you to find tools based on disability or gardening activity, which means you can find a specific tool to assist with a task you find difficult.
Choice of plants
When considering which plants to choose, go for ones that are easy to grow and don't need much maintenance. Avoid fast growing plants that require lots of pruning and make sure they're suitable for the conditions of the garden.
As a starting point, here are five easy to grow and maintain plants that will make any garden look beautiful:
Viburnum Tinus – A white and green shrub that requires shade/part shade to grow.
Wargrave Pink – A bright pink perennial that needs sun/part shade to grow.
Dutch Iris – A beautiful purple bulb that needs sun/part shade to grow.
Sunflower – A yellow annual that loves the sunshine. Unlike the others that need shade/part shade to grow, sunflowers need just sunlight.
White nancy – A versatile groundcover with pretty white flowers. Can grow in sun, shade & part shade.
If you're unsure about what to grow or how, then be sure to ask someone at the garden centre for more information.
Many people choose Radfield Home Care's services for companionship, helping them to engage in activities they find enjoyable. Radfield Care Professional's can assist those you care about to navigate the garden, prepare meals and keep hydrated. Radfield prides itself on promoting independence and independent living for those who need care.
If you would like to find out more about Radfield Home Care and how you can join the team, you can visit www.radfieldhomecare.co.uk or contact your local office.