Today is the Social Care Day of Remembrance and Reflection, remembering all Social Care workers that were tragically lost in the Covid-19 pandemic and saying thank you to the thousands that continue to support and work in this invaluable sector.
This important day of reflection highlights just how vital Care Professionals are to our communities, not only in times of national crises but in day-to-day life.
At Radfield, today we also find ourselves looking back on 14 years of Radfield Home Care and 40 years of being a care provider. These are big milestones that we would not have reached without the support and efforts of care sector professionals being recognised today.
The heroism of care during a pandemic
The COVID-19 pandemic had a profound effect on the country and how we perceive care. The work of Care Professionals was thrust into the spotlight as thousands of care workers around the world spent their days risking their own safety to support the most vulnerable people in our society, while many of us were isolating.
Alex Green, co-founder and director of Radfield Home Care said:
"We would like to convey our boundless gratitude to the hundreds of Care Professionals in our network and thousands in the sector beyond who were there for their local communities during the COVID-19 pandemic, helping the nation age well by remaining connected to the things that matter most. We are humbled by you."
Radfield Home Care anniversary; 14 years
At Radfield Home Care, March 17 also marks our 14th anniversary of delivering home care, and 2022 is our 40th year of providing care under the Radfield banner. While we are proud to have been delivering exceptional care for so long, we really can only claim a very small part of the credit.
Radfield has not been here for 40 years because of people like me, sitting behind a desk writing articles. Radfield is here because every day, hundreds of people across England step out into their communities and directly help people around them to age well and lead fulfilling lives.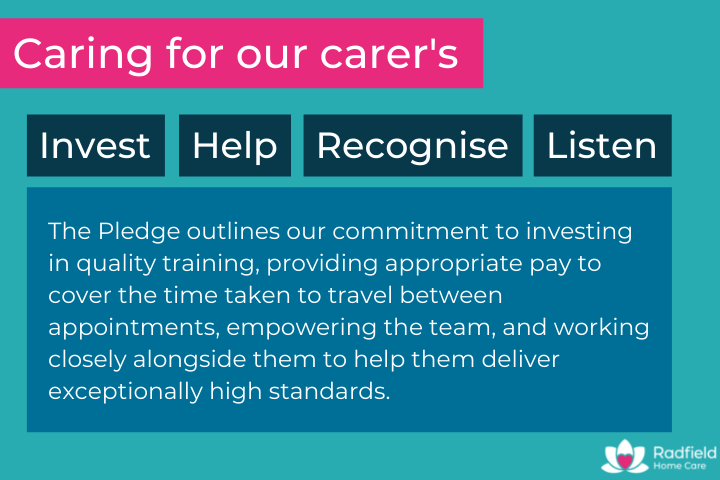 Showing Care Professionals our gratitude
At the heart of Radfield is the knowledge that exceptional people are integral for the provision of exceptional care. This is why we proudly pay Care Professionals rates equal to and above the Real Living Wage. The Real Living Wage is independently calculated and is based on the actual cost of living, it is entirely separate from the UK Government set Living Wage, which is simply a minimum wage that was renamed in 2016.
Along with paying a fair wage, we also pay for our Care Professionals' travel time and mileage; ensuring their time is never wasted getting to a client and they are never rushed while providing care.
We also cultivate a supportive working environment for our Care Professionals centred around our core values; we are family, we're on your side, and we are proud to care. Clarified in our Caring for Carers Pledge™.
These are not throwaway phrases that we put on a poster and forget about. They are integral to everything we do, especially how we train and support Care Professionals as they deliver care and develop their personal career paths.
Pay tribute on the Social Care Day of Remembrance and Reflection
The Social Care Day of Remembrance and Reflection is arranged and hosted by the care workers' charity. The charity allows people to get involved by leaving a thank you to those working in social care, or a memorial to those lost. This is a touching opportunity to remember these brilliant people and recognise what they did to help support people around them.
To discover more on the history of Radfield Home Care, our story may be found here.