The first step is talking to someone
Charles's daughter, Sarah, contacted us after becoming concerned that her mother June was finding it increasingly difficult to manage her father's behaviour. She was unsure what to do and in the first instance was looking for advice and options.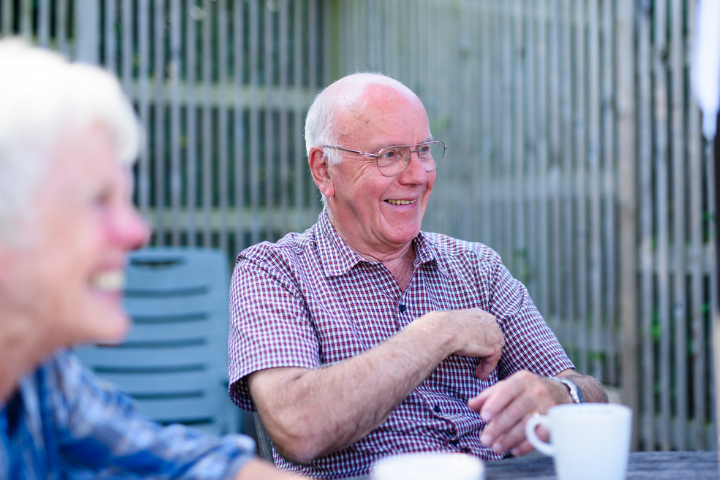 Dementia can be overwhelming; we are here to help
Charles had been a lawyer with a sharp and active mind. He started noticing memory lapses in his early 70s and when they contacted us, these had progressed to forgetting faces, names, telephone numbers, appointments and word recall. The increasing frustration that Charles was experiencing was causing him to show distress at times.
Sarah lives an hour's drive from her parents and like her father is a lawyer with a demanding and time-consuming job. Trying to find time to support her mother with Charles's cognitive decline was difficult for her and she could see that her mother was becoming more exhausted trying to care for her husband.
June had been managing Charles's forgetfulness with post-it note reminders around the house and prompting his memory lapses. Things became more difficult when June had a fall and was left housebound for a few weeks as her sprained ankle recovered. During this time, as Charles was required to take more responsibility, she noticed a decline in his ability to complete simple tasks, such as making a cup of tea. Sarah had been making the drive to her parents after work several times a week to help her mother but this was not something she could continue on a long-term basis with the responsibility she had at work.
There were two incidents that prompted Sarah and her mother June to agree that additional help was needed:
June had been to her reading group in the afternoon and when she returned home she found that Charles was watching TV at full volume in the living room. In the kitchen, a pan of soup on the stove was burnt dry and blackened. A kitchen towel was left close to the gas ring and she was relieved that it hadn't caught on fire.
A few weeks later, she answered the door to find Charles standing there with a neighbour. The neighbour explained that he had found Charles sitting on a bench in the park and upon approaching him, Charles had said he didn't know where he lived and was lost. Fortunately, the neighbour was able to bring him home.
Support for you and your loved ones at night and in the day
June realised that Charles now could not be left alone and that she needed help with his care. Although they had no idea of options available, June and Sarah agreed they wanted Charles to remain at home. Our care manager Hayley visited them at home to assess their needs and to discuss a care plan.
At first, we started with a daily visit as a respite for June and also extra hours during the week to help with housework and shopping. This gave her the ability to leave the house to see friends and to have some time to herself so that she could cope with the emotional demands of caring for her husband.
This arrangement worked well for the first year but then we needed to reassess, as one evening Charles tried to leave the house in the middle of the night. Fortunately, June managed to talk him back to bed. As he was getting up several times a night, this disturbed June's sleep and she was exhausted, emotional and finding it more difficult to manage the days. She also had a fear of him wandering off and becoming lost.
At this point, we arranged for a nightly sleepover so that June could get a full night of undisturbed sleep and if she needed help in the middle of the night with Charles then she had support.
After this arrangement, June found it much easier to deal with caring for her husband and this resulted in Charles's behaviour being both calmer and less erratic, as he must have been picking up on June's emotions. Charles still lives at home with his wife June and Sarah visits at weekends. They are all very grateful that they can continue living as a family after 40 years of marriage.
We have a plan to increase Charles's care as is needed and to offer June more assistance. She has two holidays booked this year so that she can have time to herself to recharge and we will provide 24-hour respite care whilst she is away.
As Charles knows his carers and is comfortable with them, there is no disruption when June needs to go away and June is also reassured knowing that if anything happened to her, Charles has continuous care with people he trusts and also, is well looked after.
If you would like to talk to us about care for someone with dementia or Alzheimer's Disease then contact us and our experienced care managers will arrange to discuss your needs.