Endearing through tragedy and adversity
Mary was married at twenty-five and was a full-time housewife until her husband was tragically killed in a car crash, only ten years later. Mary says that although the tragedy of losing her husband, Colin, at such a young age was difficult, she believes it made her the person she is and made her able to cope with anything.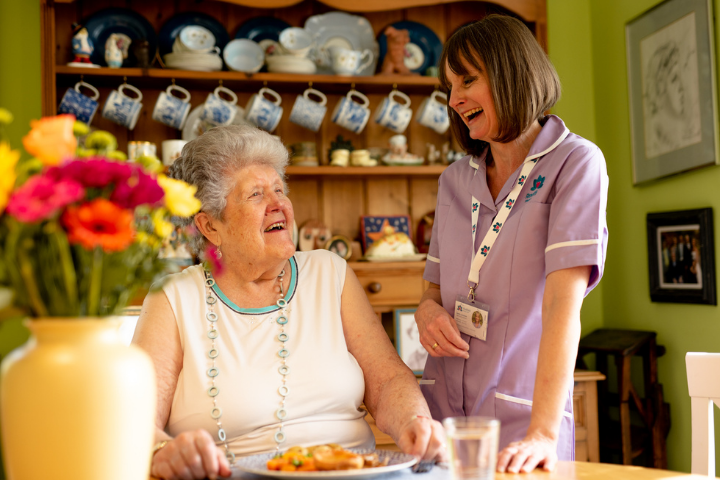 Accepting and addressing a Parkinson's diagnosis
After losing her husband, Mary raised her three young children on her own. She found employment at an estate agent's, where she progressed to become the top salesperson in her branch.
Her resilient spirit was again tested when at the age of forty-eight she was diagnosed with Parkinson's disease. She said that she had been suffering with hand tremors for over a year but attributed this to drinking too much coffee. However, when it began to get gradually worse, her doctor ran tests and confirmed that she had the degenerative disease. At first, Mary said, she found it difficult to accept the news and tried to deny it. Her children were all away at university and she was looking forward to taking over the estate agency as her own. After a period of adjustment, Mary decided to face the disease and 'do the best' that she could with it.
As the Parkinson's progressed, she introduced care with her previous agency and had visits twice a day to help with housework, meals and dressing. After having issues with a few missed appointments, Mary was not keen to either tolerate or build a relationship with an unreliable service.
A bespoke care plan that considers what matters to you
Mary's daughter, Sarah, contacted our care manager Hayley at Radfield, after being recommended by a friend whose mother had been cared for by us. We arranged a visit to meet and discuss requirements.
Mary was very direct with her needs and insisted that whoever should attend to her be positive with a strong sense of humour and that 'they better be able to cook'. After discussion, we agreed on a care plan based on full daytime coverage.
We use three different carers to cover Mary's care needs so that she can have consistent care with the same people; allowing for sickness and holidays. We always ensure that our Care Professionals are suitably matched and took great care to select three people who all had the right personality (and who could cook). Kyle, Jenny and Linda have all formed a great connection with Mary and love to talk to her, and hear about her life.
Jenny begins care at 6am by arriving to help Mary wake up and get out of bed with a cup of tea. Jenny attends to her washing and personal care and helps her to dress, and apply make-up; all before breakfast. They always sit down to breakfast together and Mary likes to read out the news from the paper over porridge and eggs.
Most mornings involve physio work and Jenny also arranges shopping deliveries and plans the meals for the day. After lunch, quite often Jenny will take Mary out either for a drive to visit friends or to the park in her wheelchair. Any medical appointments that Mary has, Jenny attends with her and will take Mary anywhere else she wants to go.
Mid-afternoon, Jenny will go home and Linda takes over. She cooks the evening meal and then helps with any housework needed. They sit and watch television together or chat and play cards. Linda will help Mary with any personal care before bed and then get her settled into bed for the night before leaving.
Mary has an emergency call button for during the night but usually sleeps through and is confident on her own.
Mary has formed a real bond with Jenny, Linda and Kyle and uses her sense of humour to get through the intimate personal care moments with her team. Kyle says that she has him in stitches and that he loves to work with her. So far, there have been no complaints about their cooking.